Get to the heart of Adelaide on a Guided Walking Tour!

Adelaide is Australia 's most tranquil city. It's a free-thinker's city, an art-lover's city, a people's city.
A city best experienced on foot.
Why not get to know the real Adelaide and join us on a guided walking tour?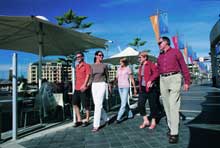 Moving at the city's famed leisurely pace, our professional, friendly guides will give you an insider's view of Australia 's first 'free-settlement', revealing grand vistas and hidden charms, national treasures and local follies, a pioneering history and a fast-track into the future.
We're delighted to offer four themed walks:
Cultural Heritage
West Terrace Cemetery
Pubs and Pulpits of North Adelaide
'On Track For The Ghan'
Our trained guides are fluent in English, French, German, Spanish and Italian. And because they're all proud South Australians, you can be sure of gaining that all-important 'local knowledge' - not least where to get the best cup of coffee during your tour!
---
Adelaide 's Cultural Heritage
Every city has a special street that captures its heritage and essence.
Ours is North Terrace.
Put on your walking shoes and discover Adelaide's 'Cultural Boulevard', a splendid thoroughfare lined with seats of government and learning, grand repositories of art, books and historic treasures, as well as courtyards and public statuary both contemporary and historic.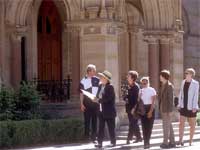 From North Terrace, your local guide will introduce you to the popular delights of Rundle Mall's beautifully restored arcades, (and if you want some insights into where the shopping is best, now's the time to ask.)
From here you'll trail to one of Australia 's largest public civic spaces, Victoria Square , surrounded by architecture that encompasses most periods.
Finally it's off to the Central Market, where the characters are as colourful as their wares.
Coffee stop? Shouldn't be a problem.
---
West Terrace Cemetery
For an insight into the history of South Australia - and indeed that of the nation - join us on a walk through West Terrace Cemetery .
This is not only (one of) Adelaide's oldest burial grounds, it's also one of the world's first multi-denominational cemeteries.
As you stand before the gravesites of our most famous forebears - including explorers, artists and reformers who engineered profound social changes -- our guides will skilfully bring their exploits and endeavours to life, before putting them into a wider context.
Whether you're visiting from Adelaide , interstate or overseas, you'll be surprised how your own life has been impacted.
---
North Adelaide 's Pubs and Pulpits
Is Adelaide a City of Churches - or a City of Pubs ?
Decide for yourself on this delightful and insightful walking tour of North Adelaide .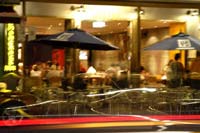 Our thought-provoking trail winds through one of Adelaide 's most graceful suburbs, where every corner has either a church or a pub! We visit time-honoured institutions, including St. Peters Catherdral, The Quaker Meeting House and the Queen's Head Hotel.
We also stop to enjoy heritage architecture and views over the city.
Whether you're more inclined to bend a knee or raise a glass, you'll certainly be enlightened by the histories and enlivened by the atmospheres.
Of course, North Adelaide is also renowned for the quality of its coffee shops, so we'll be sure to break for a cappa or a cuppa.
---
'On Track For The Ghan'

When the Ghan began its first Adelaide-Darwin passenger service in February 2004, we decided to offer a special Ghan-related tour. We wanted to give passengers a real sense of history and endeavour before they embarked on what is now regarded as one of the world's great railway journeys.
On this 1.5 hour walking tour, you'll visit the Pioneer Women's Garden, the North Terrace plaques, The Art Gallery of South Australia and The South Australian Museum .
At each stop, your guide will retell the stories of the indigenous owners, early explorers, cameleers, missionaries, miners and pioneering men and women who played a part in this critical - but little-appreciated-chapter of Australia 's development.

After the walk, it's "All aboard!" for some of you. And we trust the stories will prove the most wonderful travelling companions.