What can Tourabout Adelaide offer?
Tourabout Adelaide's complete guiding services offer you friendly, informative and professionally trained guides to give your clients
"South Australia with the personal touch".
TOURABOUT ADELAIDE for the "BEST OF SOUTH AUSTRALIA"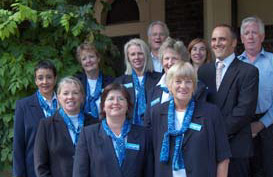 Tourabout Adelaide's guides are wonderful ambassadors for South Australia.

Their knowledge, friendliness and
flexibility will enhance
your client's stay.
Our guides can speak to you in:
Other languages available upon request.
Tourabout Adelaide offers a wide range of informative, relaxed tours for the discerning traveller.
Our Comprehensive guiding services include:
Meet and Greet
City Tours
Wine Country Tours
Kangaroo Island
Extended Touring (Melbourne, Alice Springs, etc)
Departure Assistance
Step on Guiding Services
Who works for Tourabout Adelaide?
Bi-lingual Guides fluent in European languages. All the team are "locals" who can give visitors a personal insight into the Australian lifestyle.
English-speaking Guides to give that all important local knowledge to enhance the visitor's stay.
Specialist Guides with expert knowledge in particular fields of interest including Heritage Architecture, Wine and Food, the Arts, Bushwalking, Birdwatching, the Environment and Technical Services.
Driver/Guide Services for F.I.T.'s - a personalised tour that introduces visitors to Adelaide and has the flexibility to include their interests.
Step on guides for Coach Groups - have a knowledgeable local guide to unfold the Secrets of Adelaide to your clients, by providing an informative commentary.

Guiding Services Include:


Introduction to Adelaide
Half day City Tour
Full day Barossa, Adelaide Hills,
McLaren Vale.


Tourabout Adelaide gives you South Australia with a personal touch!