Tourabout Adelaide's services are as varied as your requirements.

These include:
A comprehensive general guiding service including airport welcomes and familiarisation tours, bilingual guides for overseas visitors and specialist guides for more comprehensive guiding.
Planning imaginative social programs for conference and corporate visitors. City heritage walks or country trips can complement the business in hand!
Consultation before planning informative tours with emphasis on the particular interests of the client to guarantee the 'Best of South Australia'.

SAMPLE ITINERARY
Cleland Wildlife Sanctuary / Mount Lofty Summit
A scenic drive to Cleland Wildlife Sanctuary to enjoy a close encounter with Australian mammals and birds.

Stop at Mount Lofty to take in the sweeping views of the city and coast.

Tour includes coach and transportation, morning refreshments, entrance fee and tour guide.
---
The Antique Trail
Adelaide has a wide selection of antiques and collectibles at extremely competitive prices. Visit the shops and also Artlab, to observe the talented team restoring old paintings, fabrics and books.

Tour includes transportation, morning refreshments, entrance fee and tour guide.
---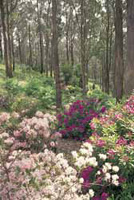 Adelaide Hills - Secrets & Surprises
Colonel Light, founder of the city of Adelaide, once referred to the Mount Lofty Ranges as 'The Enchanted Hills'. Today, we will take you to the Hills and unfold some of their secrets and surprises.
Visit The Cedars, home and studio of the landscape artist, the late Sir Hans Heysen.
Discover the charm of Hahndorf, Australia's oldest German settlement. Next comes a visit to the Jurlique Herb Farm, where a specialist guide will lead you around the herb bed products. Fresh herbs will be the focus of a special lunch prepared here.
Tour includes transportation, morning refreshments, entrance fee and tour guide.
---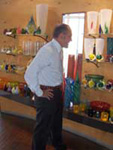 Artistic Adelaide
The celebrated arts and crafts of Adelaide are revealed - a rare opportunity to 'Meet the Makers' in their private studios as well as The Jam Factory's workshop.
Artists, potters, embroiderers, glass blowers - the options are endless.
Tour includes transportation, morning refreshments, entrance fee, and tour guide.
---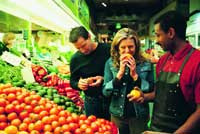 A Taste of Adelaide

A delightful taste of the cultural heritage of Adelaide, its parks and gardens combined with a tour and tasting at the historic Penfold's Magill Estate Winery. A stroll through the bustling Central Produce Market and a sampling stop at Haigh's Chocolates is included.
Tour includes transportation, morning refreshments and tour guide.
---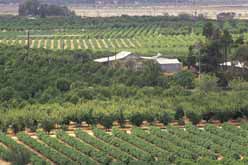 A Day in the Barossa Valley
This day reflects the 'Best of the Barossa' - wineries, galleries and gardens - with a backdrop of rolling hills and enriched by the legacy of the traditions of the early German settlers.
Highlights include one private wine tasting and one private home visit.
Tour includes transportation, tastings, 2 course light lunch with a glass of wine and tour guide.
---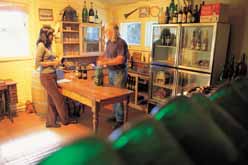 Vineyards, Almonds & Olives by the Sea

Perhaps one of South Australia's best kept secrets is close to the coast, where the Mount Lofty Ranges reach the sea. The picturesque wine coast region is home to many delightful family-owned wineries, where we will visit and taste their wines. A private visit will be arranged at either Coriole, Wirra Wirra or at one of the many boutique wineries.

We will include a visit to an olive grove to sample olive products, also fine local almonds at The Almond Train. Platters of fresh regional food will be served for lunch in the tranquil setting at Woodstock Winery followed by a visit to a local art/craft gallery.
Tour includes transportation, tastings, entrance fees, lunch platter with cake/coffee and a glass of wine and tour guide.
---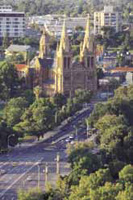 Heritage Adelaide - A Guided City Tour

Adelaide, 'City of Festivals' is also known for its bluestone mansions, restored heritage buildings and the beautiful parks and gardens, which surround the city.
Accompanied by a knowledgeable and friendly local guide, you will discover:
North Adelaide with its beautiful bluestone mansions and small cottages set in wide, leafy streets
North Terrace - Adelaide's cultural boulevarde, with its museums, galleries and hidden away courtyards
The prestigious Jam Factory - a showcase of South Australian art and craft
The history & cultural heritage of South Australia.
---
Discover Adelaide's Secrets - A Guided Walk
Adelaide is an ideal city for walking, not only because it is flat, but also because it is well laid out. In the company of a local guide, go on a morning walk and discover the city's hidden secrets, hear a little history and gain that all important knowledge which will enhance your stay.
---
Warrawong at Dusk
Come and experience the magic of the Australian bush setting of Warrawong Sanctuary. A specialist guide will introduce you to some of the smaller endangered species of Australia like Bettongs, Pottaroos and Bandicoots that roam freely in this protected environment. Dinner at Warrawong is included.